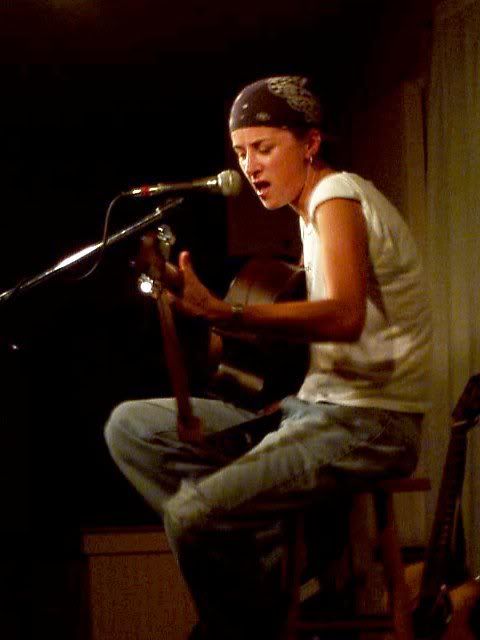 I stumbled upon
Melissa Ferrick
through an old school mix tape given to me from a friend this summer. Side 2, Track 3 was Melissa Ferrick's
"I'm a Lesbian".
This parody made me laugh with her sarcastic and witty lyrics ironically written to the music of
"I'm the Only One"
by
Melissa Etheridge.
(pictured at left)Intrigued by her voice and intelligent lyrics I looked into Melissa Ferrick more. Getting her big break from a freak circumstance as opener for Morrissey in 1991, almost 2 decades and 12 studio releases later, and still Melissa Ferrick is rockin'. "Ferrick manages to mediate between the rock'n'roll woman typified by
Janis Joplin
and the uncompromising, firecracker feminist
Ani DiFranco
." She writes from a rock' n' roll heart but sticks to the simplicity and intimacy of her refined acoustic "coffeehouse" sound with hints of rock added for flavor. She is the epitome of "just a girl and her guitar". That connection between the artist and their music plays a huge role in the connection between the artist and their fans. When you experience that type of intensity and raw emotion on stage, you begin to feel like you've gotten to look at the musicians childhood photographs and they're one of you're good friends who calls you in the middle of the night to talk about their significant other.
With goosebumps running down your arms, your heart beating fast, and your mind hanging on every word of the musician, that connection becomes almost an endorphin-like high. For fans of Melissa Ferrick, this is common at her shows. Even with a rigourous touring schedule of over 150 shows a year, Melissa still astounds the crowd with her intrinsic passion and intensity onstage. Melissa seems to lose herself in the chords of her guitar and can't seem to hold back any one lyric that seem to be pouring straight from her heart. "I love, love, love playing live because I love the way my guitar sounds through my monitors. It's like a fight. I feel 'less than' the guitar. I will never, ever win that instrument, and it always wins me live. When I play live, I'm just a little misguided navigator...the show is in charge." -Morgan Thomson-IHEG Intern (pictured above in WARPAINT tie. Warpaint is her T-Shirt company)
Get Melissa Ferrick Tickets
Here